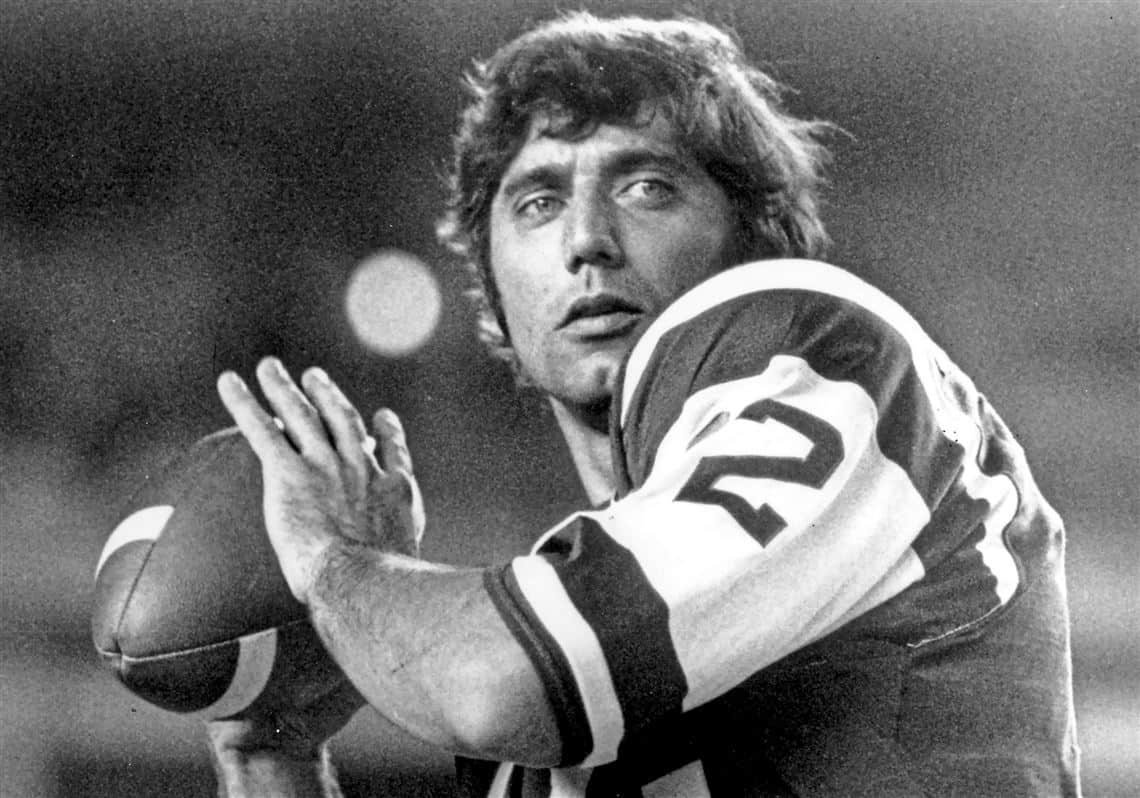 Joe Namath's Guarantee – 1969 Super Bowl III
Joe Namath grew up as the youngest of five children in Beaver Falls, Pennsylvania and became a standout athlete, excelling in high school football, basketball and baseball…a good enough baseball player to receive offers from a number of major league teams, including the Yankees, Mets, Indians, Reds, Pirates, and Phillies with the Chicago Cubs offering him a bonus of $50,000. to sign.
At his moms urging to get a college education Joe decided to play football and was solicited by Notre Dame, Penn State and others, however decided to play for the University of Alabama under Paul "Bear" Bryant which Namath led to a 29-4 record over three seasons, including a National Championship in 1964.
Picked No.1 overall in the AFL draft by the New York Jets, Namath signed with the team in January 1965 for a then record $427,000 and included a retirement plan that guaranteed Namath $5,000 a year for life after his playing career ended…and upon signing as a gesture of goodwill, a brand new Lincoln Continental.
With his good looks and no shortage of female admirers, Namath had a star quality about him.  When Jets owner Sonny Werblin signed the 22-year-old University of Alabama star he said: "When Joe Namath walks into a room, you know he's there."
Sonny knew star power, for 30 years he had represented Hollywood and music biggest stars for (MCA), including Jack Benny, Alfred Hitchcock, Frank Sinatra, Elizabeth Taylor, Johnny Carson, among others and helped put together TV productions such as The Ed Sullivan Show and The Jackie Gleason Show.
Sonny would later tell Sports Illustrated: "I believe in the star system. It's the only way to sell tickets.  It's what you put on stage or the playing field that draws people."  Namath would later get the nickname, "Broadway Joe" after appearing on the cover of Sports Illustrated in July of 1965 with Broadway in the background.
By 1965, as the Jets began their new season with Namath stepping onto the stage and he did not disappoint, either as a player or a high-profile personality.  Off the field, Namath's reputation as a lady's man became part of his "man about town" image, appearing in public with actresses, models, and other stars.
Fast forward to the AFL's championship game, played on December 29, 1968, the Jets faced the Oakland Raiders at Shea Stadium.  Midway through the fourth quarter in front of a crowd of 62,627 fans the Raiders losing 20-13 fought back and took a 23-20 lead. Namath marched the Jets up the field and with a final pass to Don Maynard regained the lead 27-23. The Jets defense held off Oakland and the New York Jets had won the AFL championship.  With that win it was on to Super Bowl III in January to meet the Baltimore Colts.
The Colts posted a 13-1 record and in their last ten games only allowed seven touchdowns.  Their quarterback, Earl Morrall, was having a great season after replacing Johnny Unitas due to an injury. On their way to meeting the Jets in the Superbowl, the Colts had beaten the Cleveland Browns 34-0 in the NFL championship game.
Super Bowl III was scheduled to be played in the Orange Bowl at Miami, Florida on Sunday, January 12th, 1969.  Both teams had come to Florida a week or so before the game to practice there and become acclimated to the warmer climate and prepare their respective game plans.  Joe Namath had been talking to the press about the upcoming game even before his arrival in Florida.  In late December, on the 30th, he told the press that Daryle Lamonica of the Oakland Raiders was a better passing quarterback than the Colt's Earl Morrall.  And once in Florida, Namath would appear in public a few more times, also speaking with the press about the game.
On the evening of January 9th, several days before the big game, Namath attended a dinner that was honoring him as pro football's most outstanding player for 1968.  During the course of events that evening, when Namath spoke at one point, someone in the back of the room shouted out "the Colts are going to kick your ass."  Namath then responded: "Hey, I got news for you. We're going to win Sunday, I'll guarantee you…"  The "guarantee," as Namath himself would later explain, was not planned or premeditated, it just came naturally in the context of his remarks, prompted in part by the heckler — but also by Namath's personal belief that the Jets would win.
Namath had been studying Colt game films by this time, and he was seeing opportunity in the Colts' defense.  At the dinner, Namath reiterated his views about Colt quarterback Morrall, saying he was entitled to his opinion.  He also took issue with press accounts that the Jets defense could not compare to the Colts, giving his own guys very high praise.
The next morning The Miami Herald ran a banner headline on its front sports page that read "Namath Guarantees Jet Victory"  that made Jet's coach, Weeb Ewbank furious, "Ah Joe, Joe, Joe," said Ewbank, "you know what they're going to do?," referring to the Colts. "They're going to put that story up on the locker room wall…those Colts are gonna want to kill us."
Namath's "guarantee" also managed to convince some players on his own team — and get them rethinking and looking at Colt game films again.  The effect was a positive psychology in the Jets' locker room.  The day before the game, Bill Rademacher, a member of the Jets' special teams' squad, said that Namath's remarks had psyched up the Jets: "Joe has been trying to shake us up.  That's why he started all the talking.  Well, now we're properly shook, and I'll tell you something else.  It's more than just his pregame behavior.  He's telling the truth.  We are going to win."
Namath persisted with his prediction, defending it poolside with reporters at the Galt Ocean Mile Hotel in Ft. Lauderdale where the Jets were staying.  The Colts, he said, were not only beatable, but their quarterback, Earl Morrall, the NFL's most valuable player, would have a tough time making the Jets' third string.  Engaging with reporters, Namath said: "We're a better team than Baltimore."
The Jets as huge underdogs won the game and at the conclusion of Super Bowl III, Joe Namath ran off the field and into the locker room holding up his index finger saying "We're No. 1."  Captured by photographers, that scene has become one of professional football's classic iconic images — and to a degree, a validation of one man's belief in his team, his own abilities, and of willing an outcome.  And to this day, Namath's famous "guarantee" remains memorable….